(Guide) Producing an Explainer Video with Nibble Video Step by Step
Introduction
Explainer videos are effective, versatile, and snappy. At around 90 seconds, they can't be too tricky to produce, right? Well, with a full service creative studio like us at your disposal, it's a breeze.
Here's the Nibble magic formula for creating amazing explainer videos every time.
Our explainer video production process
1. Creative kick-off session
The first step is to get together for a creative discussion which allows us to come up with a fantastic concept we're all happy with.
As well as covering off how the explainer's story and style will best engage with your audience, we'll discuss practical topics like the key deliverables, call to action and what project success looks like.
Working with a studio creates a collaborative, creative atmosphere, so getting together like this (preferably face-to-face!) is really important early on. 
During the kick-off session, you'll be also granted access to our free Project Portal to manage your animation video production process.
Our fully custom project management tool has been designed specifically around Nibble's animation process with the sole aim of making the process of creating animated video as efficient, effective, and as collaborative as possible.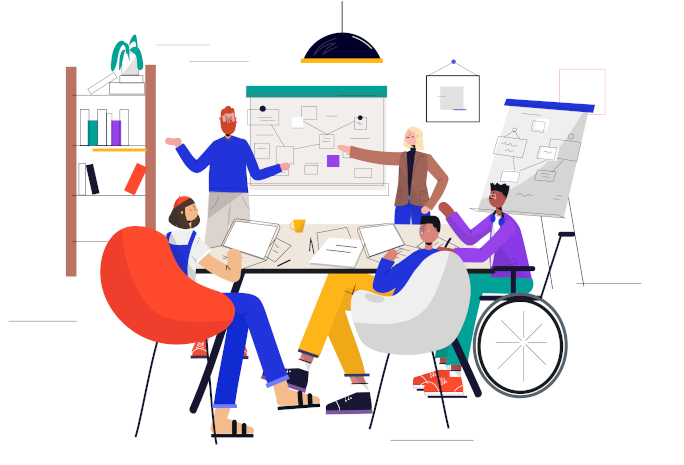 2. Scriptwriting
Once we have a strong concept, we'll draft a script for the explainer.
This might mean starting from scratch, or developing a script you already have. We'll make sure the language, tone, length and flow are all spot on. It's then paired with a shot-by-shot written description of what the viewer will see on screen to give you a mental picture of the visuals before we start producing storyboards.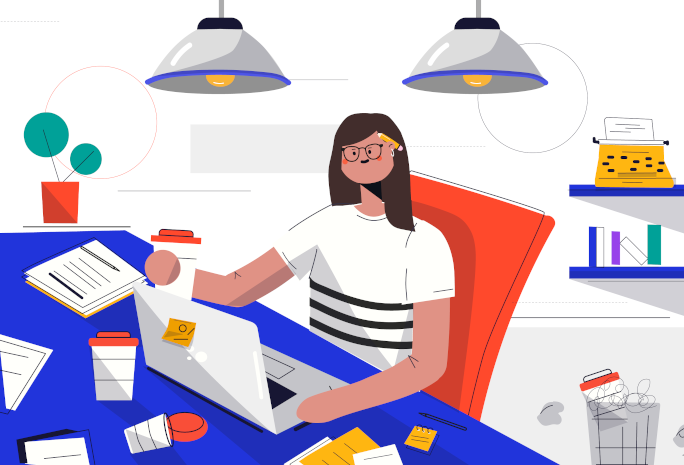 3. Storyboarding
Storyboards are a grid of roughly sketched panels which show all of the shots in your explainer video and the order in which they'll appear.
Each panel is accompanied by the voiceover that will feature during that shot, as well as notes that describe the action.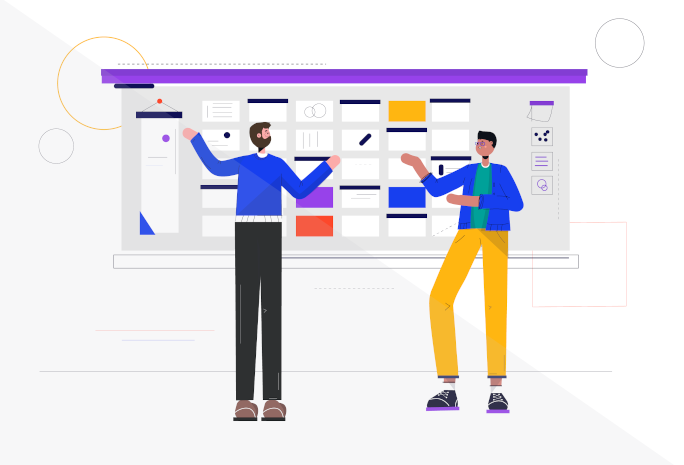 4. Artwork
We love this bit, putting brush to canvas (digitally, at least).
Using your creative input and branding, we'll flesh out the storyboard sketches to create all of the artwork for the explainer video, starting with proof of concept art and character designs. This ensures you can be involved in developing the final style.
Once the artwork is approved, we'll get to work producing all the 'layouts'. These are essentially a polished version of the storyboards in the final style.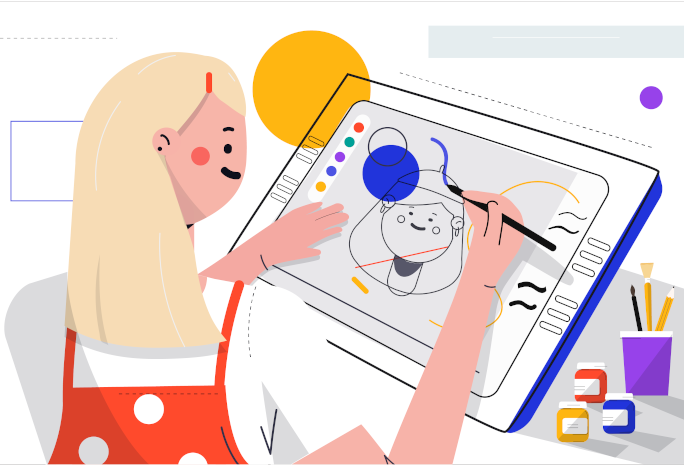 5. Animation
Now we get to the most exciting part of the process – the animation itself!
There are a couple of style choices here like 2D vector cutout animation or a more traditional frame-by-frame approach.
Don't worry, we'll guide you through all the options with plenty of examples that'll help you choose. Once approved, you can put your feet up for a minute because it's over to our expert animators to do what they do best.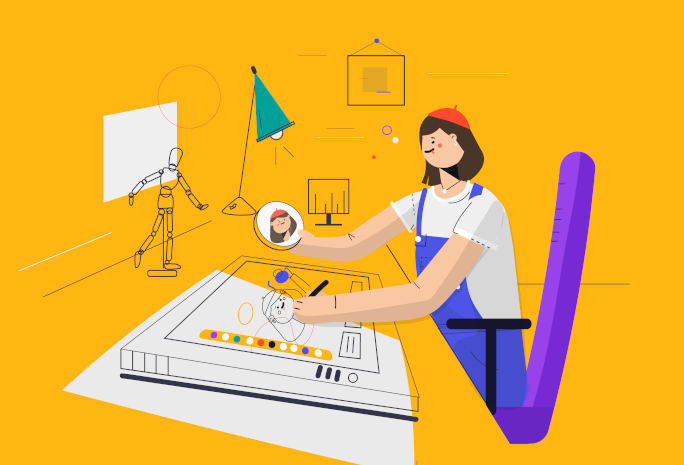 6. Sound design
Although we have access to some award-winning composers, in the majority of cases we'll source customised stock music options for you.
We aren't restricted to using royalty-free music and our fixed fee music costs are inclusive of all necessary usage licences.
Based on your preference, we'll combine the music with voiceover to form a soundtrack that sounds as amazing as your explainer looks.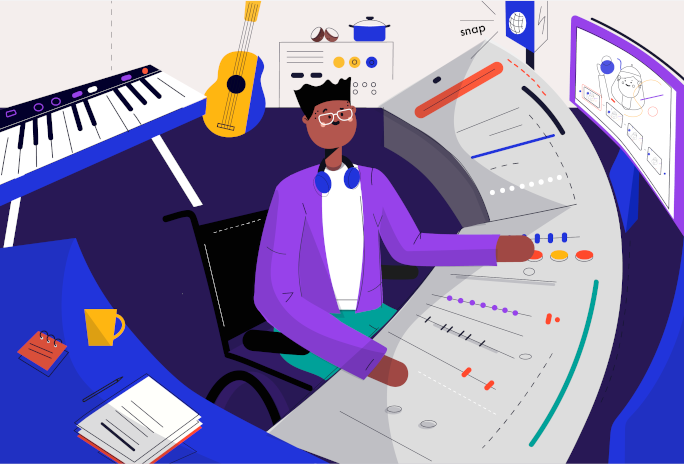 7. Voiceover recording
All of our voiceover is studio recorded by professional voice actors and we can manage all the studio, producer, and sound engineer costs, as well as the artists' record and usage fee. You can conference into the recording session to help direct the voice artist yourself, but we usually handle the direction as well!
Once recorded, we'll clean up and edit the audio.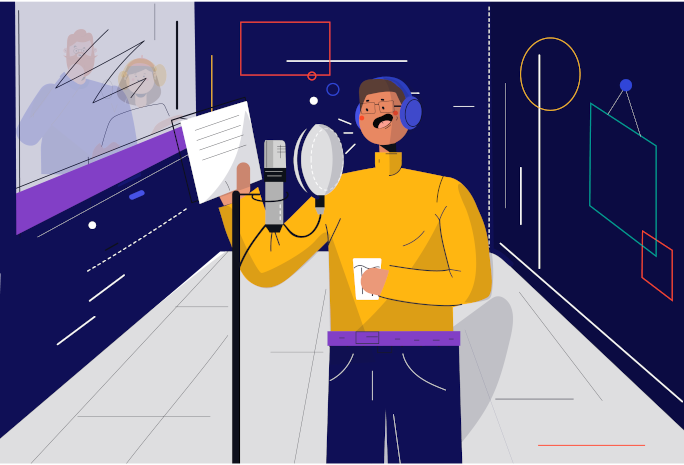 8. Screen recording
Producing a high-resolution screen recording is often required for explainer videos that showcase features and functionality in software or apps. Specialist tools give us full control over the speed and fluidity of mouse movements as well as clicks and transitions. It also offers us the ability to pan across and zoom in and out of sections that require focus.
Finally, our motion designers will apply titles, annotations and callouts to ensure your recording is as slick and professional as possible.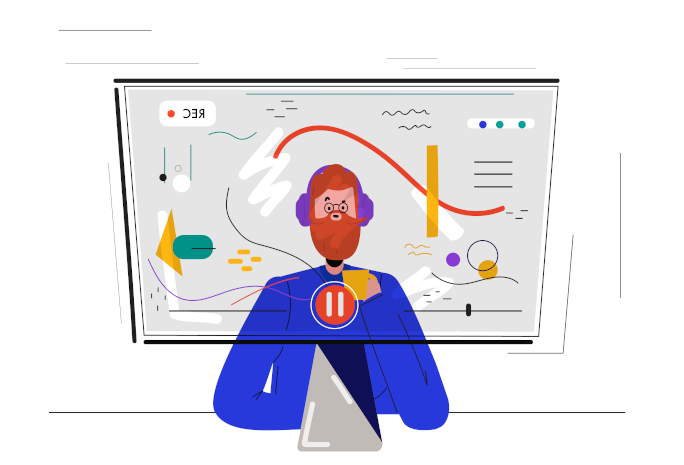 9. Delivery
Once approved it's time to deliver your explainer!
Your video can be supplied in any standard or high definition format, and in any file format you need.
Our experts are also on hand to support you in promoting your video. We can devise video marketing strategies that will guarantee your explainer video gets seen by as many of the right type of viewer as possible!
Explainer video production FAQs
How quickly can you produce an explainer video?
It takes around two weeks to produce an explainer video with Nibble, although it differs project by project. All our explainers are bespoke, so give us a ring and we'll get back to you with timescales.
Should I use an animation studio or freelance artists for my explainer video?
While working with freelancers or in-house artists might be more cost-effective at first, it can become costly and difficult to manage as you progress. Just look at the process steps above, there are plenty of hidden costs which you might get as a nasty surprise during your project.
With a full-service animation studio like Nibble, we take the project management burden off your shoulders. By bringing together all artists required to complete the animation project (concept artists, character designers, animators, scriptwriters, voice-over artists and so on) under one roof, we can deliver a seamless and cost-efficient experience for you.
How do video explainers work?
Explainer videos are short, informative videos that break down potentially complicated or abstract topics, products and concepts in a simple way. They do this by combining explanatory voiceover with relatable characters and motion graphics to communicate a message quickly and effectively.
First, you present a recognisable challenge, then you introduce a simple solution (you!), and finally, you show a better version of life that's only possible thanks to your product or service.
Find out more about animated explainer videos.
What style of explainer video should I choose?
It completely depends on your goals, audience and product.
Motion graphics are perfect for breaking down data, reports, and lots of information at once to pull out the important bits.
2D animation is emotive, fun and versatile.
3D explainer video is distinctive, memorable and has practical application for certain sectors (construction for example).
Whiteboard video and screen capture are both cheaper and sometimes the best option for clarity and speed.
Find out more about common explainer video styles and what they're best for.
Where can I use an explainer video?
Animated explainers are such a popular tool because they can fit in so many places and are used for so many purposes.
Use them for training, onboarding, reporting, marketing, advertising or sales. They're at home on YouTube, social media, onsite, paid media, television, conferences and more. 
How much does it cost to produce an explainer video? 
At Nibble, we don't believe in a one-fits-all approach. The final cost of the animation is bespoke and based on several factors, such as video length, voiceover and animation style used. We also never use animation templates – we create each style and character from scratch to best fit each client's requirements and branding.
However, for a professional, all-inclusive animated video you'd be looking at a minimum investment of £3,000 to £5,000. Contact our team today to get a no-obligation project estimate!