Smashing B2B Content Marketing Ideas to Try in 2022
Introduction
The pandemic has impacted some businesses more than others, but marketers across the board have still undeniably felt its effects. Especially since months of remote working really put the creative, collaborative environment that many of us thrive in on hold.
But worry not; we're here to give you a set of fresh ideas for your B2B marketing in 2022 and beyond. 
B2B content marketing strategy 
Think B2B content marketing is all whitepapers? Think again.
It's been a long-held belief that B2B and B2C marketing appeals to audiences favouring completely different techniques. B2B marketers might sometimes be jealous of their B2C counterparts because they get to tap into more fun and creativity since their products are more relatable and exciting.
Here at Nibble, we know that's not the case! When it comes down to it, the core focus of each discipline is the same:
Clear, simple messaging delivered in easily digestible language

A focus on core benefits and problem solving

Appealing to emotion and relatability
Don't believe us on that last one? Well, it's true. Just because your prospects are representatives for businesses doesn't stop them from being people who respond well to emotive and inspirational marketing.
The importance of content marketing in B2B
Usually, B2B marketers are dealing with solutions and services that aren't fundamentally interesting or exciting. Let's look at B2B marketing another way to see why that shouldn't matter:
Most of us know that a car is a hugely complex technical object, but we don't really know or care exactly how it works. Do motoring manufacturers feel the need to make us understand what's under the bonnet? No. Their marketing is full of language and visuals communicating how their cars make you feel; how they make your life better.
The petrolheads among us may indeed want to find out more about the inner workings, though. Well, all of that stuff is available too, just deeper into the journey, once the main comms have already done their job at inspiring the viewer with an image of a better life thanks to their product.
Business marketers can get caught up in focusing on what their product is rather than its effect on a business (or, more importantly, the people who comprise that business).
Marketing writer Jonathan Crossland describes this product/people relationship:
"…a central tenet of content marketing is that the product isn't the story – people are. B2C knows this almost instinctively. B2B sometimes has trouble thinking quite the same way."

Jonathan Crossland
We appreciate that this is quite a big shift in thinking for some B2B marketers, so here are some ideas you can consider working into your shiny new content marketing strategy.
Out-of-the-box B2B content marketing ideas
Break out of traditional formats
Nothing says "B2B content marketing" like a whitepaper. It's been the staple for decades, but the format is getting old and tired, especially in dreaded PDF form…
Like Blockbuster vs Netflix or print media's shift to digital, PDF whitepapers are becoming less and less compatible with the modern ways people take on information. These legacy experiences become outdated when content consumption methods become less relevant to viewer/reader habits. 
How many of us have folders stuffed with PDFs which we tell ourselves we should probably read because they'd be useful, but when we have a spare few minutes, we jump on a YouTube video or scroll through a flashy infographic instead? I know my hand is up!
Respond to this shift in content consumption by trying new formats:
Try video
Video is great for grabbing attention, cutting through competitor noise, increasing information recall and letting you get creative with your messaging.
Caterpillar, a world-leading construction equipment producer, showed off the power and precision of their vehicles… by making them play a gigantic game of Jenga.
This uses an idea people are already familiar with, which carries its own set of related (business appropriate) themes, namely the precision, strength and fine motor performance required to complete a physically demanding goal.
Dissolve, a stock image and footage company did something similar. They made a really quite convincing presidential campaign video entirely out of their own stock footage.
Again, they give their audience a point of reference (political elections) and tackle it by putting their own product quality front and centre.
Animated video works especially well for businesses, namely financial or technology providers whose products aren't physical. Animation brings them to life in a way even live action struggles to.
Infographics
Infographics are the perfect way to take information-rich messaging and present it in an accessible way.
Charts, key message callouts, icons and imagery all combine to communicate information quickly, clearly and in the most engaging way possible.
You can even take them one step further with an animated infographic.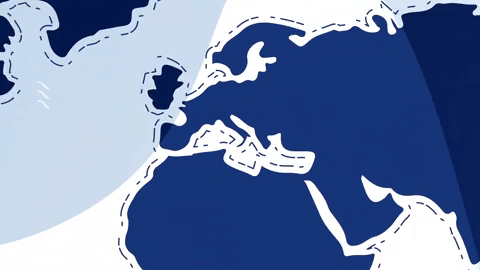 Alternatively, if your goal is to engage your audience through social media, why not try to use animation?
Expert point of view
Content marketing for businesses is often fixated on the capabilities of the product and the expertise of the provider. Calling back to what we said earlier about appealing to people, not just brands, you can use the real-life experts at your company as a relatable, authoritative asset.
SEO brand Moz has a much-loved "Whiteboard Friday" series which delivers on this perfectly. Each Friday, CEO and co-founder Rand Fishkin presents a super clear, focussed and practical video where he breaks down an aspect of search marketing with just a whiteboard and a set of markers.
Here's an example: 
This style of video isn't exactly new, it sort of feels like you're back in the classroom, doesn't it? There are easy ways to get this effect without wheeling out a camera as well; whiteboard animation is also a really effective, budget-friendly way to break down complex information in a digestible way.
Start a blog or content hub
We get it, this article does read a bit like a war on the whitepaper, but written content is clearly still a really central part of B2B marketing.
Try publishing shorter, snappier articles or blog posts on your site. A knowledge hub can be a home for all sorts of content: video, graphics, articles, animation, press releases… Not only will these support your site's SEO, but they can also all fuel a newsletter and your socials.
Content like this appeals to users higher in the commercial funnel, leading them from awareness to conversion via subscription or getting in contact.
Worried you might be losing out on something beefier which typically works well as a download in exchange for an email address?
Don't be. Give them a taste of your blog then ask for them to log in, or bundle up your insights on specific themes and make your downloadable curation an added value worthy of giving an email address for.
Hopefully, we've left you fizzing with inspiration, but if you do need someone to bounce ideas off, a friendly full-service creative studio is just a
phone call
away