Creative B2B Lead Generation Ideas for 2022 [Examples]
Introduction
Generating quality leads is a marketer's bread and butter, and recent research shows that it's just as high on the agenda as ever. 
HubSpot, Litmus, and Wistia's Not Another State of Marketing Report 2021 asked marketers what their priorities were for the following 12 months, and lead generation came out on top with 35% of respondents naming it specifically.
However, generating leads is getting more difficult in 2021.
Lockdowns forced many brick-and-mortar businesses to close their doors, and those that survived were pushed online, made to quickly adapt to conducting their business digitally. This created a highly competitive environment, with loads of businesses suddenly all trying to win share of voice in organic search, content marketing and social media, resulting in increased customer acquisition costs.
With digital marketers still reeling from reduced post-pandemic budgets, how can you generate cost-effective quality leads in 2022?
Here are some of our most effective lead generation strategies for a range of budgets.
→ You might also like: How to make your B2B brand stand out in 2022? [Mega Guide]
Creative lead generation techniques
Social prospecting
Social prospecting is an activity carried out on social media where you (via branded channels or personal channels as a representative of a brand) post valuable, shareable content, grow your connections, and nurture those connections through meaningful engagement and interaction.
It's a mixture of professional brand building, community management and organic social marketing that can result in a valuable network of warm, responsive leads.
You do this in a number of ways: 
Sharing relevant content that aligns with your brand

Posting thought leadership

Putting groups together

Reacting and commenting on your connections' activity

Engaging with other businesses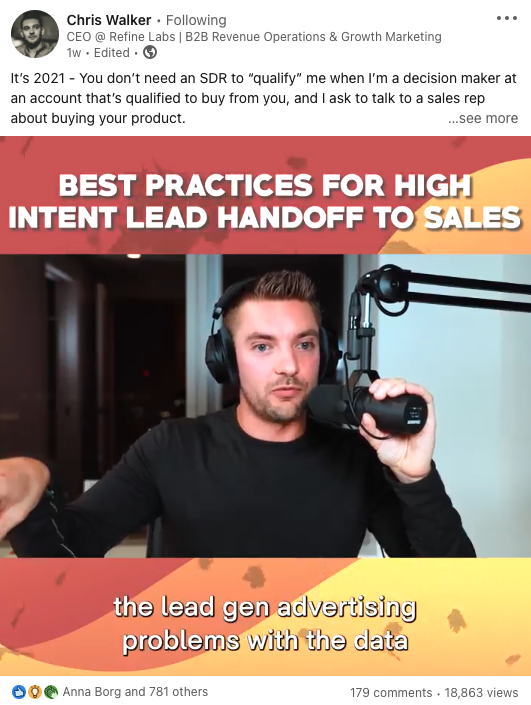 It sounds simple, but remember, you're not out to win direct sales.
You're providing something useful for free, and building rapport with prospects who you can rely on for further contact, should the appropriate opportunity arise. Nobody likes random unsolicited private messages, but if you spot that a connection seems to be in-market for your solution, drop them a friendly message, rather than a pitch.
After all, we're all just individuals working at businesses; if there's mutual benefit, they'll be happy to consider you as long as you're genuine and not too pushy!
→ Learn more about social media video.
Calculators, quizzes and interactive content
There's nothing particularly creative about lead generation through downloadable whitepapers, but that formula can be adapted to fit modern prospect habits.
Interactive content in the form of a calculator (check out Nibble's animation quote calculator tool), valuation tool, or even a quiz, can meet search demand and help you reach visitors with higher purchase intent.
There are some cracking custom-built interactive tools out there like this fashion footprint calculator by ThreadUp.
It uses vibrant, animated visuals and a combination of sliders and multiple-choice boxes to provide expert, shareable insight. Whilst that tool is aimed at consumers, so lead generation isn't the goal, you should consider using similar tools which ask for an email address for delivery of the results.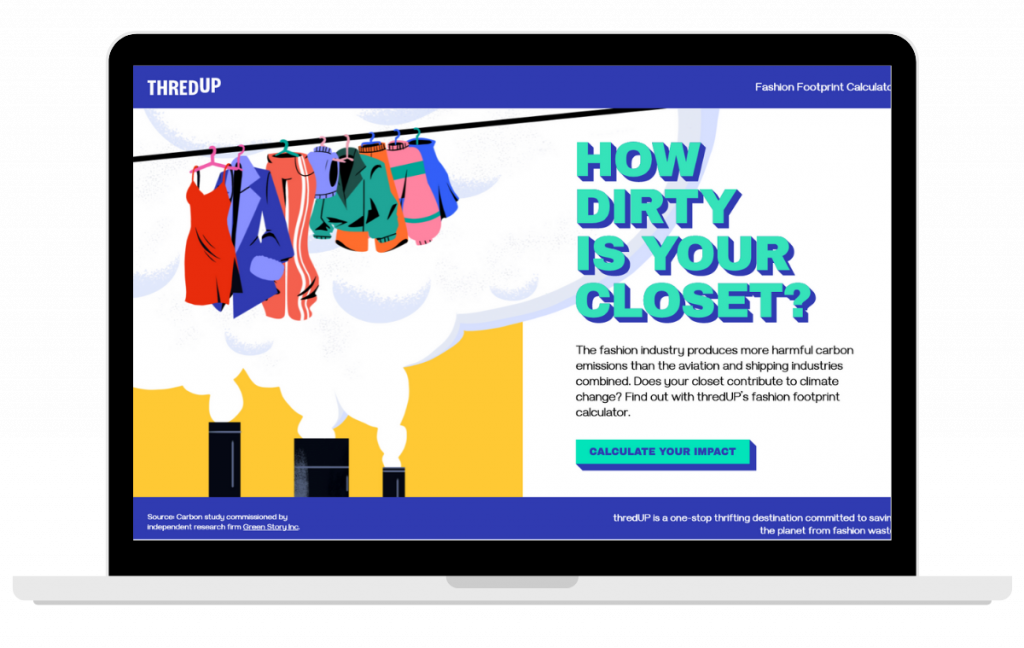 Seems expensive? Luckily interactive content doesn't need to bust your budget.
Embeddable elements from places like Calconic, can give you awesome content which doesn't require development or design resource.
Thanks to some flexible templates and customisable fields, the resulting calculator can be added to your site in an easily applied chunk of code.
→ Learn more about interactive video.
Lead generation videos
There's nothing quite as immediately engaging and impactful as a video. In marketing, they're great for grabbing attention, holding it, and then inspiring action.
When it comes to harnessing the power of video for lead generation, there are a few routes you can go down.
Gating

– Try offering a trailer or initial episode of a video series for free, then encouraging leads by asking for their contact details in return for unlocking the rest. As with other successful lead generation activity, you're offering something useful and authoritative for free, proving your value, then assuming that your prospects will respond favourably.
Overlay

– Some video players (like YouTube with its 'annotations' tool) allow you to overlay links to a sign up form or even display the form itself on top of the video. Slightly more intrusive than gating, but if off to one side, and delivered at just the right time, you're appealing to your captive audience when they're primed to respond.
Landing page

– Use a video to support your lead generation efforts on a landing page. Videos work great on landing pages because they can deliver all your key messages clearly, quickly and in a visually engaging way. 
Consider working with a video production studio to discover their problem solving, entertaining, memorable, search-optimised, brand-building power.
→ Learn more about video marketing.
Partnerships with third-party experts
In the spirit of professional brand building, why not tap up some of your contacts or partners to provide some insight worthy of filling a form for?
This could be a behind the scenes interview offering sector secrets, a profile of an industry staple, a campaign breakdown, or even some joint research. I'm sure there will be some outgoing folks in your contact list open to a bit of exposure!
As well as producing valuable content for your leads, these partnerships help to strengthen your professional relationships. They also accommodate your brand punching through to new audiences if your collaborators post to their circles; a new set of contacts for you to draw on for lead nurturing.
Why not follow us on LinkedIn? We collaborated with loads of lovely people in our Creative Marketing Guide!
Online groups and forums
There are countless online communities dedicated to almost every niche and topic going. Similarly to social prospecting, you can join these communities and start proving your expertise and value to its members to attract leads.
Depending on your sector, there should be some obvious forums or sites you can go to reach engaged, in-market prospects.
Now, plenty of these communities aren't necessarily full of people willing to hear a pitch, so be careful with how far you push your activity. Go in with the mindset that you're going to provide useful and interesting content, do some listening and info gathering amongst your prospects, and always be respectful of their rules around commercial posting.
Summary
Hopefully that's left you brimming with inspiration for your next lead generation campaign! And if you do have room for a little more marketing insight, make you sign up to our fortnightly newsletter.