[Mega Guide] How to Make Your B2B Marketing Stand Out in 2022
Ditch the B2B marketing rulebook and create a brand your B2B buyers will love.
Are you looking to transform your B2B brand image in 2022 to help with driving trust and awareness? If the answer is yes, this mega guide is for you.
Foreword – Building brand trust in B2B marketing
The last couple of years proved that having a strong, future-proof brand presence is more important than ever. 
Lockdowns forced many brick-and-mortar businesses to close their doors, and those that survived were pushed online, made to quickly adapt to conducting their business digitally. This created a highly competitive environment, with loads of businesses trying to win a share of voice in organic search, content marketing and social media, resulting in increased customer acquisition costs.
As a B2B marketer, our top challenge will always be delivering quality leads. Any results-driven marketing specialist should measure the effectiveness of their strategy by tracking performance metrics such as the number of sales-qualified leads and the average ratio of prospects that turned into paying customers.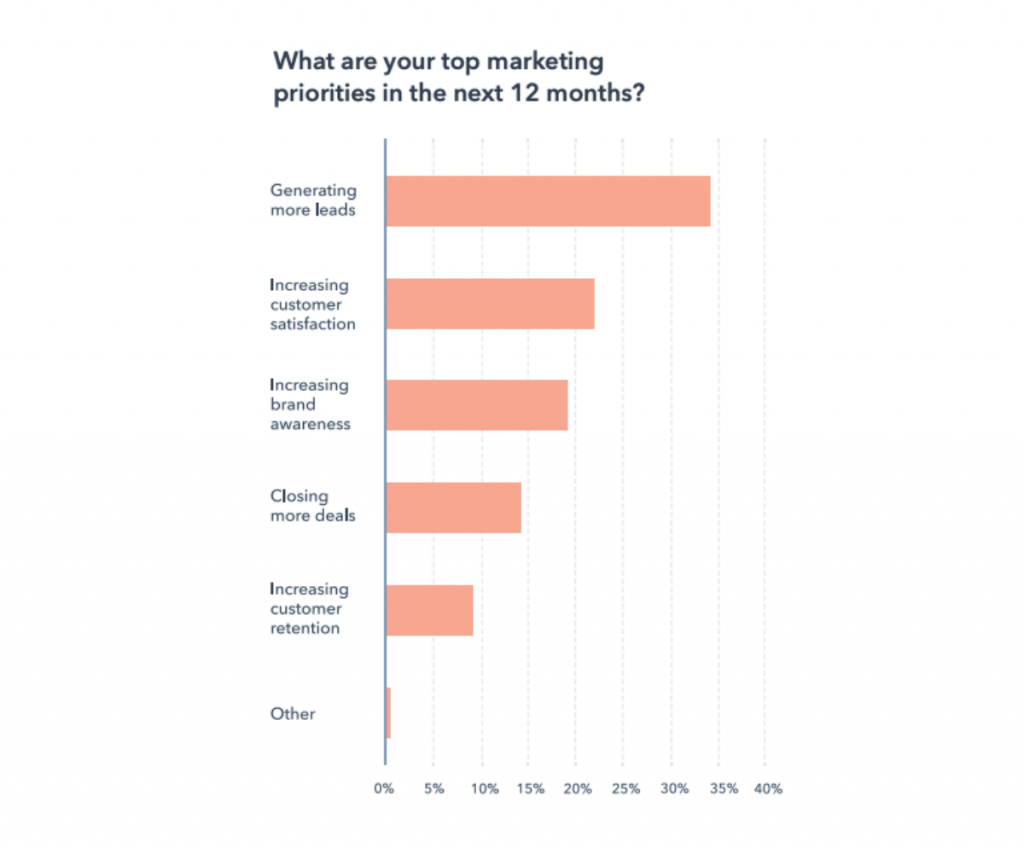 According to the 2021 Edelman Trust Barometer study, 70% of people said brand trust is more important today than ever before. Right now, we're facing extensive misinformation and widespread mistrust of societal institutions, and it's preventing growth, even for B2B brands.
But trust isn't built overnight. To build a robust brand, you need to connect with your prospects and establish an emotional connection between them and your company. 
And numbers are here to prove it:
A recent

survey

conducted by Celtra revealed that 85% of 1000 US adults agreed either strongly (39%) or somewhat (46%) that they are

more likely to trust a brand with high quality and well-designed ads.
Similarly,
More than 6 in 10 strongly agree (20%) or somewhat agree (44%) that

they find brands with poor creative to be less trustworthy.
Customers find brands with poor creative to be less trustworthy.
In today's digital, data-driven world it's so easy to get caught up by buzzwords like "hyper-personalisation", "automation", "AI", and "customer-centricity" that dominate every modern marketer's vocabulary. In a world of funnels, engines, tech stacks, intent data and ABM, we need to remember one thing above all else: we're selling to human beings. And as thinking, feeling beings, we all appreciate creative, out-of-the-box ideas that surprise and delight!
Here's how to make your B2B brand stand out with creative, long-term strategies that'll get you noticed and build loyalty.
B2B marketing isn't "Boring to Boring" – three examples of creative B2B brands
Let's kick off by taking a peek at what 'good' looks like. It's said that there are two types of marketers:
The ones who ask, 'what is everyone else doing?' and those who ask, 'what is no one else doing?'. 
If I think about B2B marketing, the first thing that comes to mind are white papers, events, podcasts, stakeholders video interviews and LinkedIn prospecting.
While this can be an excellent mix of high-performing activities, it's usually lost in an ocean of other identical content that doesn't differentiate from their competitors.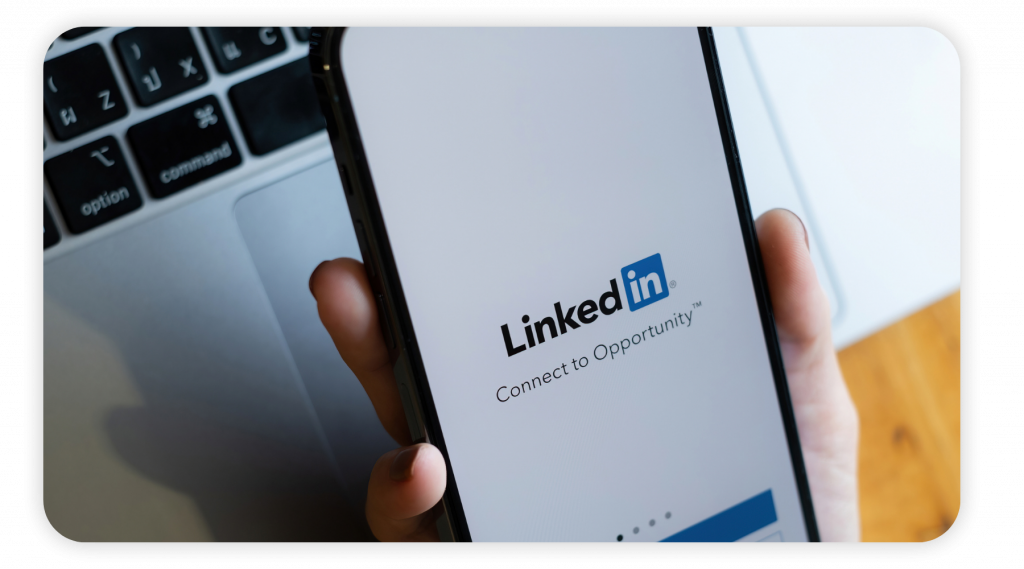 Luckily, there are some exceptions!. Some B2B brands really nailed their comms strategy – check out Privy, HubSpot and Refine Labs.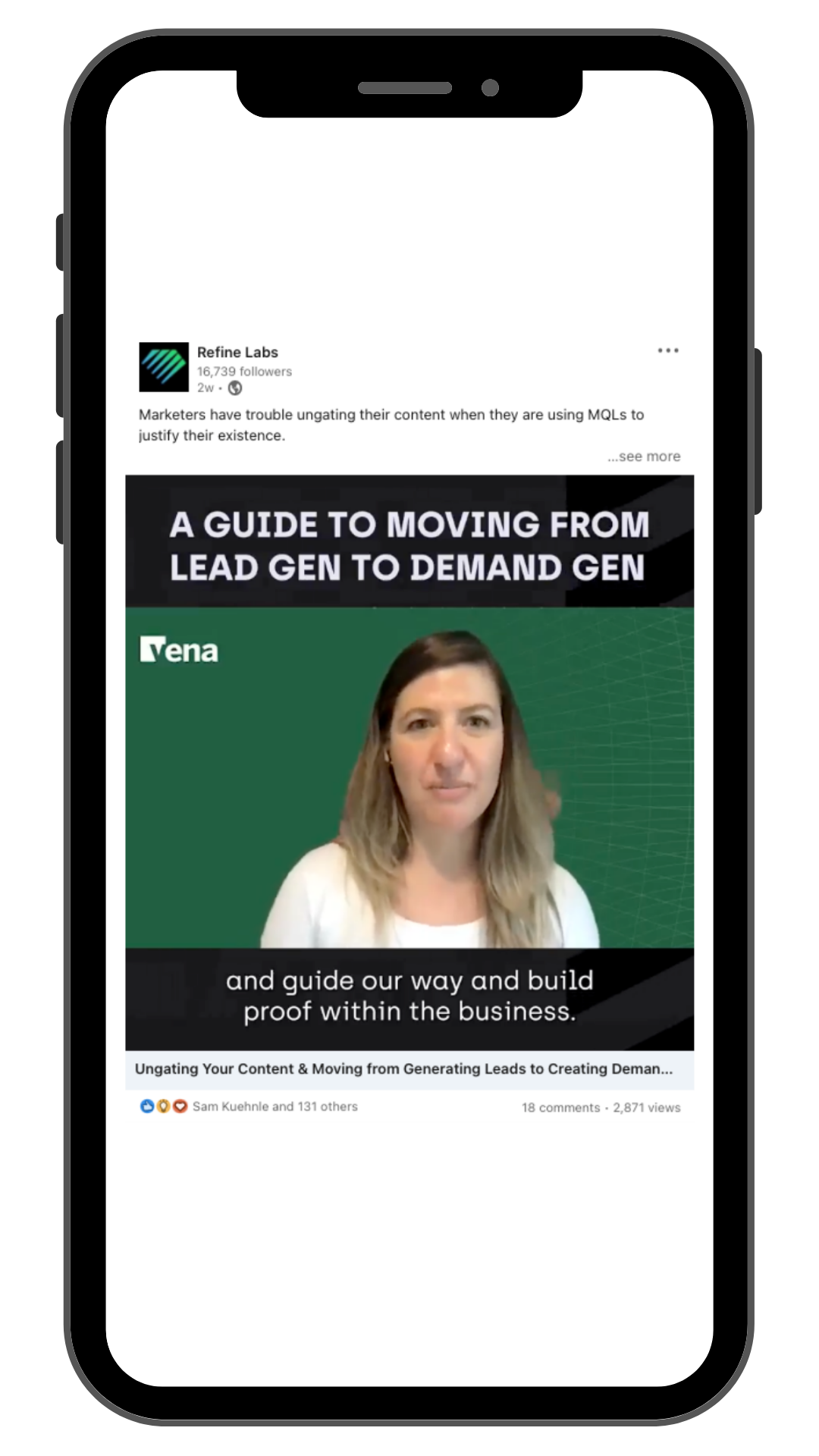 So how did they do it? A common denominator for these innovative businesses is their approach to long term and short term marketing.
Chris Walker, CEO at Refine Labs, developed his unique formula for long-term success that gets measurable, meaningful results, while still fulfilling their short-term demand generation needs: "The new way is to lean into the fact that word of mouth drives most buying decisions inside mid-market enterprise B2B SaaS…We don't try to convert people who aren't ready to buy. Instead, we educate them through content as a way to create attention, product consideration, and some of those word-of-mouth actions inside of channels that we can't necessarily measure or see."
Here's why embracing longer term, brand-first activity should be firmly on your agenda.
Long-term vs short-term B2B marketing – where to play?
Short-term marketing, also known as operational or tactical, can immediately bring traffic to your website, but in most cases, it leaves little room for out-of-the-box thinking – which is critical for developing a robust, sustainable brand.
Think about how many ads do you see daily on your LinkedIn/Facebook feed that try to encourage you to download something or sign up for an event. Countless, right? And I bet you can't recall a single one of them the very next day.

That's because most promoted B2B ads look almost identical – they all focus on lead generation through a downloadable piece of content or a webinar. 
Paid promotion of gated content used to be regarded as one of the most effective lead generation strategies in B2B marketing. Its primary job was to collect contact details of new prospects without the need for acquiring expensive contact lists. However, as the pandemic kicked in and more businesses moved online, the number of gated industry reports, white papers and guides became unbearable. Standard, cookie-cutter content stopped being so trustworthy and effective. 
According to WordStream, the average landing page conversion rate in 2021 is around 2.35%. The top 25% of sites are converting at 5.31% and above, while the top 10% are looking at 11.45% and above.
That seems like a broad span of effectiveness doesn't it?
You might ask yourself why some pieces of content perform better than others. We've outlined some reasons why your content landing page might not be performing as expected in a recent blog post. However, one of the most fundamental reasons why your prospects aren't so keen on sharing their contact details is indeed a lack of trust. 
One of the most fundamental reasons why your prospects don't convert is lack of trust.
Think of it this way.
Say you're doing some online shopping, looking around for a good deal across lots of different eCommerce sites.
There are some that you might not recognise, but you still trust because their site is of sufficient quality that you feel you can buy from them without risk. Whereas others may start ringing alarm bells because they're using low-effort practices.
Sometimes the product doesn't seem to be as described, or the site looks outdated, isn't mobile-optimised, or uses invasive popups and loads slowly.
Even Google has been telling websites that they're actively punishing some sites which don't exhibit some of these high-trust factors with a set of metrics they call Core Web Vitals. It's especially rare for Google to be so upfront about what will impact search ranking, which goes to show that sites which load slowly, mislead their users, aren't mobile-optimised or use intrusive elements are being outed as untrustworthy by the world's most influential search engine.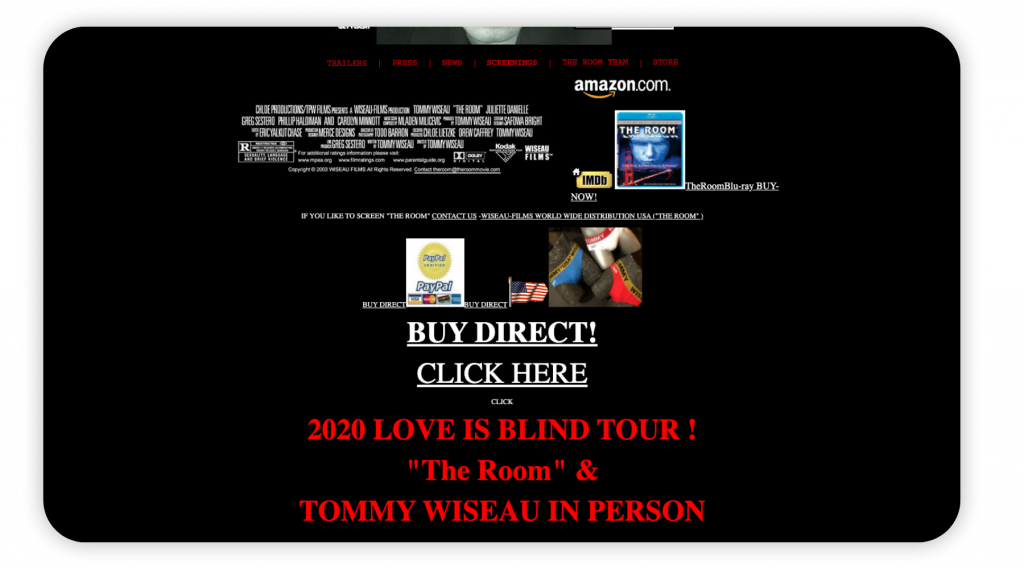 The same alarm bells start ringing for your prospects when you're trying to sell a high-value B2B product if you have no prior history of interacting with your prospects and your content isn't creative enough. The most profitable clients prefer to deal with industry recognised brands as it provides them with a sense of security, but you can give yourself a much better shot at getting your foot in the door if you invest in a memorable, brand-boosting strategy. 
For example, let's say that you're facing the challenge of choosing a cloud management tool. In this scenario, would you rather talk to the sales reps from a tool that has what seems an outdated website (which effectively means that their systems could be out of date, too), or someone who takes their online presence seriously? A great representation of the above is Nordcloud Klarity – a straightforward cloud management tool from Nordcloud, an IBM company.
A recent piece of research carried out by the B2B Institute and System1 revealed that 75% of B2B brands produce advertising that contributes zero long-term growth in market share. 
This means that poorly executed advertising without strong branding doesn't work for over seventy five percent of B2B brands. While it might generate traffic and a sudden spike of impressions, it won't really matter in the long run. 
So, if you're facing the challenge of how to best distribute your marketing budget in 2022, here's a little cheatsheet.
How to balance long & short-term marketing strategies in B2B?
Les Binet and Peter Field in their book The Long and the Short of It examined how to best approach investment in advertising and balance those two important strategies to reach the maximum ROI:
| Brand Building | Sales Activation |
| --- | --- |
| Creates Brand Equity | Exploits Brand Equity |
| Future Sales | Current Sales |
| Broad Reach | Tightly Targeted |
| Emotional | Persuasion |
| Master-Brand | Product Line |
| 60% | 40% |
Source: Binet & Field, The IPA, The Long & The Short of It
The suggested approach presented in the book is to invest 60% of your total 2022 marketing budget towards long-term activities focused on broadening the reach and mastering the brand image, and focus the remaining 40% on the bottom of funnel activities.
How to maximise B2B advertising effectiveness?
A 2017 research study from Nielsen and Nielsen Catalina Solutions (NCS) examined key factors of what drives advertising effectiveness based on nearly 500 studies from 2016 and 2017.
The report found that between creative, reach, targeting, recency and context; good creative is still the most important element of the sales equation.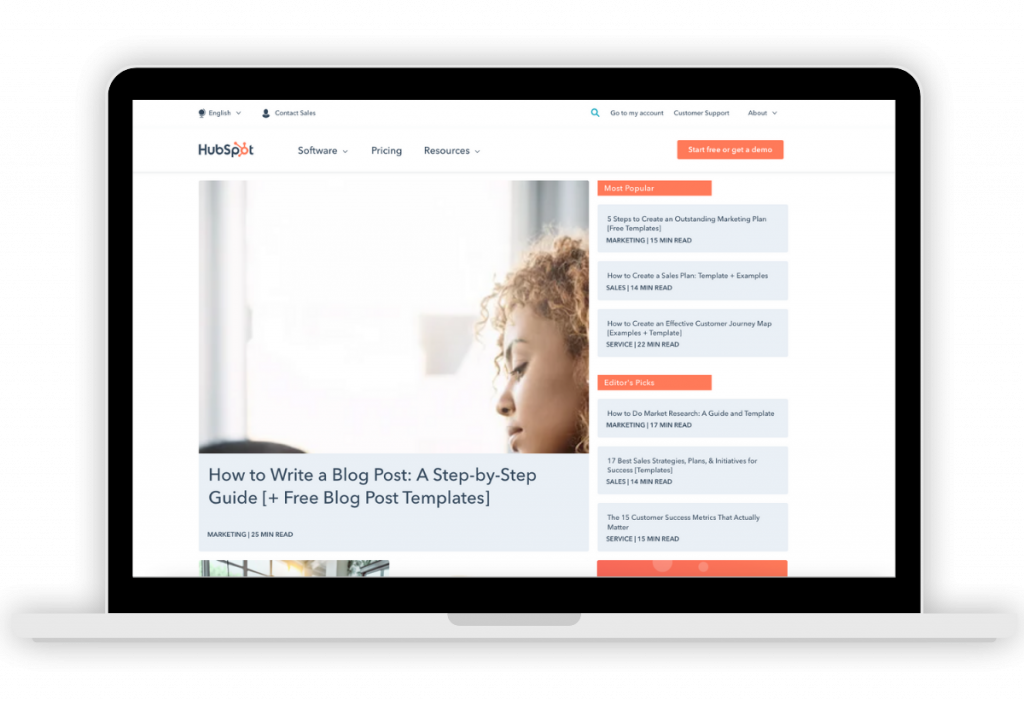 Now that we know creative, brand-first activity is so important in B2B marketing, let's start bringing the components of a great strategy together.
Content marketing
Creative content marketing is one of the most effective tools a business can use to ensure long-term profit – but not everyone knows how to use it right.  
Many B2B brands consider content marketing as a tool to hit a quota, which results in an invasive, sales-orientated approach. Content marketing can be a great deal closer, but the majority of the time, its strength lies higher in the funnel, at the awareness and consideration level. You're using it to boost reach more than you are to drive conversion in your visitors first session.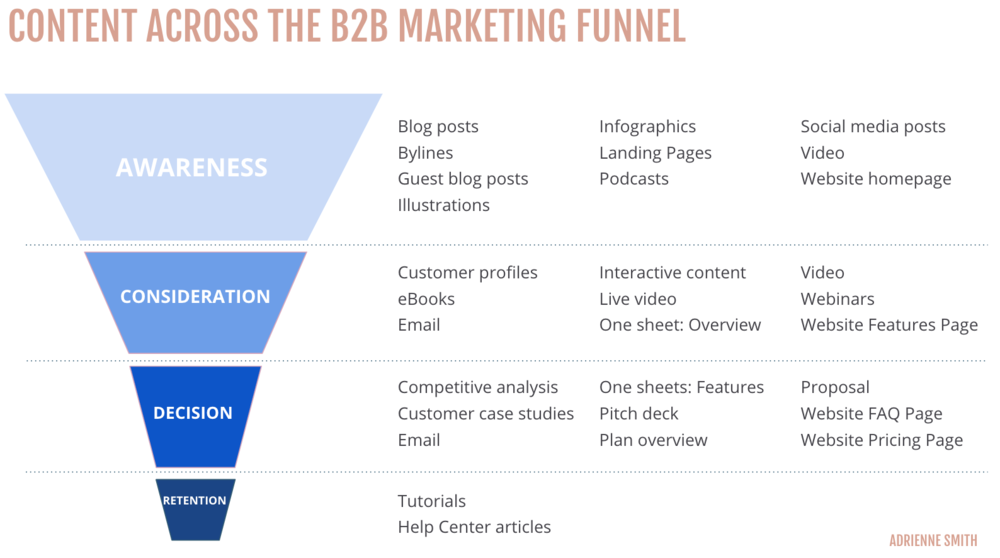 The temptation to anchor your strategy in the status quo is understandable. After all, B2B companies prefer to stay in a 'safe zone' by sticking to 'proven strategies' (industry best practices) to make sure that they don't do anything that could potentially hurt the company's image.
Legacy marketing strategies are predictable and easy to measure, but they'll keep the business running pretty much as usual. If you want to achieve a new level of growth, you need to be thinking with a longer-term, brand development mindset. 
B2B marketing communication doesn't have to be and shouldn't be boring – on the contrary, to set yourself apart from competitors, it should be as creative and engaging as possible. 
A bold story that resonates with your audience is a key to attracting new prospects and converting them into paying customers. 
Remember that customers are exposed to hundreds of media messages every day, making it increasingly difficult for brands like yours to cut through the clutter. However, it also provides endless opportunities to create more exciting and revolutionary ways to tell stories and engage our audiences. Read more about how to craft engaging B2B stories in our recent blog. 
The real difference between B2B and B2C marketing strategies
Business marketers often get jealous of their B2C counterparts because there's a perception that they have the luxury of making their campaigns braver and more emotional as they market directly to customers. They feel like since they target business clients and enterprises, they have to come up with something more formal (read: boring) in order to attract the right audience.
But in reality, B2B marketers are not so much different from their B2C counterparts. 
David Gerhard, a former Chief Brand Officer at Drift and founder of one of the most prominent B2B marketing communities, DGMG, has exquisitely summarised the critical difference between B2C and B2B marketing:
"B2C marketing is selling to people.
B2B marketing is selling to people who work at companies". 
A WHM survey from 2019 looked at the B2B advertising market. It concluded decision-makers are indeed… bored.
They want creative and engaging ads as part of their buying journey. 
Here's what they said:
About half (48%) of B2B purchase decision makers find B2B advertising boring.
Half (49 %) also feel most B2B websites are not as interesting and creative as consumer websites.
A vast majority (82%) wish B2B advertising had the creativity associated with B2C advertising.

Only 22% of respondents say the advertising they see often prompts them to take a next step towards making a purchase.
And perhaps most striking:
81% of business buyers believe they'd make better decisions if B2B advertising did a better job of engaging them.
Even in a professional environment buying decisions are strongly influenced by emotion. Every decision-maker associated with a company you store in your CRM is, after all, a human being full of fears, challenges and expectations.
So, instead of focusing your efforts on solely promoting your product, you should be tackling the challenges of your prospective buyers.
Rather than producing dime-a-dozen whitepapers to collect email addresses, you should start thinking about creating bigger, better and braver stories that resonate with your buyers and drive them down a sales funnel.
Alexander Jutkowitz, one of today's leading evangelists for innovative marketing, describes strategic storytelling as one of the most successful ingredients of a trusted brand image. He says: "In the realm of a good story, your mind is more trusting. Good stories release a cocktail of neurochemicals in the brain that simultaneously increase focus and empathy."
He continues: "When we are caught up in a good story, our minds are exactly where advertisers want us: paying attention and full of good feelings that attach to the focus of that attention. The more empathy we have, the more trust we'll build."
A solid business foundation begins with a story.
How to develop an effective B2B story
Telling stories is human nature. We love a good yarn, and using storytelling to communicate, teach and inspire action is a practice older than recorded history itself.
Putting such a fundamental, dynamic technique into your brand comms can help your message stand out, get remembered and (crucially!) be acted on. 
So stick with us to find out how to weave storytelling into your business strategy.
What is storytelling?
We should all know what storytelling is in essence – we've heard it since we were in the cot, after all.
Storytelling is using a narrative to communicate a message. There are characters, challenges to overcome and usually a satisfying resolution.
The aim of storytelling can vary widely. But generally, they're great for teaching a lesson, entertaining an audience, or building affinity between speaker and listener.
Key elements of a good story
The key ingredients of a good story are:
Characters

Setting

Challenge

Resolution
For example, in the story of The Lord of the Rings, Frodo and the fellowship [characters] travel through middle earth [setting] to destroy the ring [challenge] and end Sauron's threat to the world [resolution].

That's the broad framework, at least, but to make a story genuinely effective, you have to consider a few more elements:
Entertaining:

You have to keep your audience on the hook – engaged and interested in what's coming next.

Structured:

Organise your story in a simple way to help convey your core message. Set the scene, introduce your characters and challenges, then when the stakes are apparent, the resolution will be more impactful.

Relatable:

The best stories are universal. They tap into recognisable emotions and experiences which increase the chances of them resonating with their audiences. This is vital for making them…

Memorable:

Make your story surprising, inspirational and emotive. These are all factors essential for making you sticky.
How to apply the storytelling technique to your B2B business
Psychologist Jerome Bruner produced multiple publications on narrative, argument, learning and memory. In his book Actual Minds, Possible Worlds, he claims that information told within a story is approximately 22 times more likely to be remembered than facts alone.
That's a considerable increase and one that businesses can't afford to ignore when winning consumer attention and keeping it is so difficult.
At this point, storytelling is already so widespread and influential in comms that you may not fully realise it's even happening. On the other hand, some brands will wear their heart on their sleeve and make no attempt to hide the fact that they're telling a story.
Using narrative and the elements above to make a connection between your brand and your customers can be done in a few ways.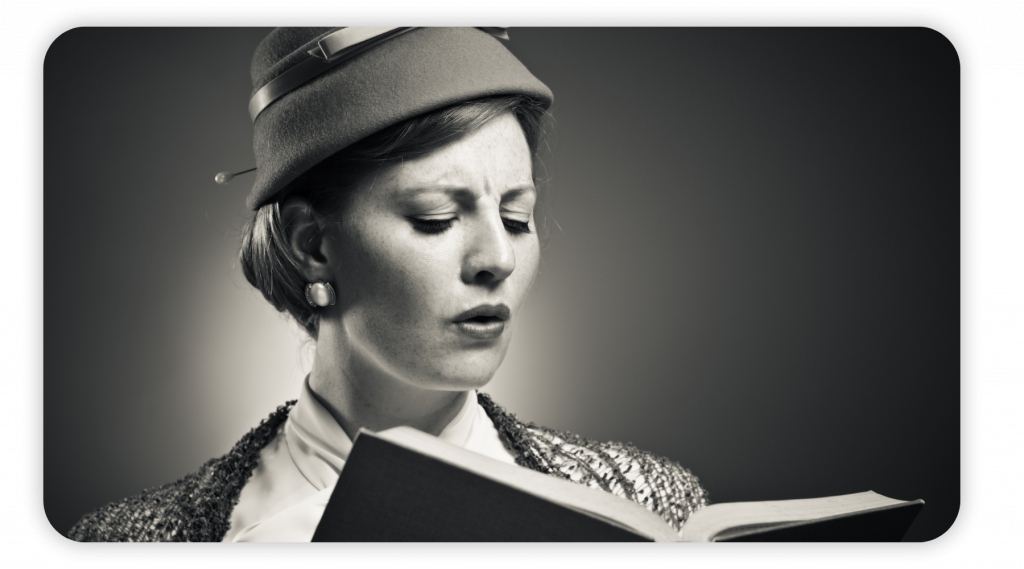 Brilliant B2B storytelling examples to inspire your next campaign
Business storytelling comes in all shapes and formats, but undoubtedly, video is the most powerful one. B2B video marketing statistics reveal over 70% of business buyers watch videos to complete their product research. 
However, B2B companies often kill their potential by choosing the wrong types of video; instead of emotional storytelling, they put forward dry high-level executives, talking about the 'unique' features their product offers. Unfortunately, on most occasions, these videos are of use to no one – apart from the PR team who take care of the executive's public image. 
Over 70% of business buyers watch videos to complete their product research. 
One of the most common misconceptions is that business marketing can't be creative because it tackles technical and complex business challenges. In other words, B2B marketers believe that business marketing communication must be complex and technical in order to attract the right customers.
To prove this wrong, I've chosen my three favourite examples of B2B videos that come from three rather challenging and regulated sectors – hardware, technology and law. What I love about these is that I can watch them on repeat because they don't even feel like ads at all!
But have a look for yourself; the popcorn is on me!
Hewlett Packard – The Wolf
Now, this is what I call an engaging campaign. A series of short videos produced by HP features Mr Robot's Christian Slater who shares a story of what some might consider a dry and unengaging topic: cyber security. 
This educational spot, which is also an ad for HP's super-secure printers, features a menacing character to represent the threats companies face if their printer security is lacking. 
The video series hit the spot for several reasons. 
It positions HP products in a unique way that resonates with the buyer.  

It triggers emotions (in this case by showcasing the consequences for a business and the buying committee if they purchase a non-secure printer).

It educates prospects about the risks associated with corporate cyber security and guides them about how to avoid similar threats and potential consequences in the future.
It tells a story in a creative, memorable way using characters we're already familiar with (Christian Slater played an iconic Mr Robot, the co-founder and leader of the hacker group fsociety, a revolutionary prophet who plans to bring down the world's largest conglomerate.)
Simply brilliant.
IBM – Focus on rich storytelling
You know what they say – nobody ever got fired for buying IBM. 
While some people might think that such a prominent brand really doesn't need any marketing, it actually does more than you think – they just do it differently. 
Carla Piñeyro Sublett, the Chief Marketing Officer at IBM, represents a unique approach to tech brand marketing, which prioritizes a long term brand vision over short-term gains. 
"Since the advent of ad tech, B2B marketers have lost their way," Piñyero Sublett said. "We forgot that our No. 1 responsibility is to create relationships and add value. That's not going to happen by peppering LinkedIn inboxes, chasing with banner ads or flooding emails. I want to create more of a pull than a push by educating and inspiring customers through rich storytelling."
Sublett wants to break the cycle of targeted, account-based marketing B2B companies have previously relied on, and instead uncover rich stories that already exist within the organisation. In IBM's case that would be Nobel prizes as well as invented technologies including the first PC, Lasik, the barcode and the ATM machine. 
And, here's a big spoiler alert – they want to win an Oscar with it!
Bryan Cave Leighton Paisner
BLP is a law firm that offers advice to help well-known financial institutions and other companies to navigate risk and make business transactions work. They're experts at assisting risk officers in planning for and managing regulatory risk – keeping their companies, boards, and colleagues safe.
They designed an award-winning legal thought leadership and content marketing campaign to stand out from competitors and make their marketing efforts more effective. The campaign consisted of a series of Ocean's 11 videos using the format of "cautionary tales", each inspired by real-life regulatory nightmares.
Those simple yet effective corporate videos used a mix of live-action videos and animation to hook the audience and generate inquiries. 
As a result, the campaign generated 515% more leads than the campaign target, 1108% ROMI, international press coverage, and a robust future pipeline. 
That's the power of thought-provoking B2B storytelling!    
How can you leverage emotional storytelling in your B2B strategy?
Storytelling is a powerful tool that resonates with every audience.
In business strategy, creating a story has three distinct advantages: 
A story visualises a B2B customer journey.

It bypasses the need to pitch or hard sell. 

It brings out the emotions and psychology involved in B2B sales. 
According to research by Google in partnership with Motista and CEB, 50% of B2B buyers are more likely to buy if they can connect emotionally with your brand. Just take a look at this corporate animation we've created for one of our clients – who doesn't want to feel like a superhero?
It starts with your business goals, objectives, mission, and vision. If a B2B buyer sees that there is common ground, they'll identify with your brand and create a sense of trust.
50% of B2B buyers are more likely to buy if they can connect emotionally with your brand. 
The same study also reveals that 71% of B2B buyers purchase when they see personal value in your business. Moreover, 68.8% of the B2B buyers surveyed indicated that they are even willing to pay a higher price to do business with a brand they believe in.
Personal, emotive, identify, believe. Words you might not associate with B2B marketing perhaps, but to stand out like a proud lighthouse amongst your competitors in a sea of mediocrity, you have to start making those ideas core to your messaging.
Below you'll find a proven framework to guide you on how to create an effective business storytelling strategy.
Business storytelling step by step
1. Know your audience
No surprises here. As with any comms, you need to know who you're going to be targeting.
2. Define a core message
What do you want your story to do? How are you going to make your primary message clear? This links back to the styles presented above. You might want to share your values, or frame your service as a problem-solver that your audience can't live without.
3. Choose a call to action
What's the profitable action that you'd like your story to inspire in your audience? This can be measurable like buying a product, subscribing to a mailing list, visiting a site or sharing a video. Don't be shy, ask them to do it directly!
4. Choose a medium
Most business storytelling is happening in a handful of forms. 
Visually: through video, animation or interactive media. 
Written: in blogs or articles, or
Audio: like on a podcast or webinar, or by a speaker at an event. 
For most businesses, a versatile video that can be shared in many different places will be the way to go here.
5. Produce it
Sounds simple, doesn't it? 
Just put into practice everything you've just read! Or get an experienced creative studio or agency to help you out. 
Getting them involved even sooner than this step will be much more helpful if you decide to outsource production. They'll be able to help you with your story from the very initial idea and help to develop it from start to finish.
6. Publish and promote
Now just pick the channels available to you for your chosen story format and share away!
The most creative formats and ideas to fuel your B2B marketing campaign
As soon as you get your story right, it's time to distribute it. Below I've compiled what in my experience are the top formats to help your brand be seen. 
Video & animation
There isn't a more wholesome medium to showcase your brand's story than video. Live videos and animation successfully capture your brand's story and tell it in an engaging, thought-provoking way. 
The examples I shared with you before are an excellent representation of how to tell a great story in less than two minutes. Don't miss out on this opportunity. 
Use video for: website, landing page, campaign creative (top and middle of the funnel), social media, sales and elevator pitches.
Own media
IBM publishes a quarterly magazine called Industrious that helps to establish the brand as a thought leader. The magazine is filled with high-quality content and updates, many relating to the current state of the technology world. 
What makes it so compelling is that it provides real value to its audience instead of acting as a sales factor. Instead of aggressively pushing the IBM products on to people, they educate them about the latest trends and developments and nurture prospective buyers down the purchase funnel.  
Use owned media for: thought leadership, PR, sponsorship
Instagram carousels
Social media is an important yet often overlooked part of the B2B marketing strategy. To strengthen your expert position within the industry and engage your followers, enrich your social media content with bold, eye-catching carousels. 
We all know that long content doesn't really work for social media. The reason is simple – people scrolling through their favourite social networking platforms have a much shorter attention span, they aren't in the buying mood and all they look for is entertainment. 
If you happen to have a longer branded piece of content that you wish to share with your social followers, carousels are the best format to do so. Simply break up long pieces of content such as blog posts or articles into digestible chunks of information and add a fancy design to make it stand out:

Carousels work as B2B social content since their primary goal is to educate your prospective buyers. So, instead of pushing a product onto them, you help your prospects understand their challenges and discreetly show how your product can help to overcome them. 
Use carousels for: social media content (Instagram, LinkedIn & Facebook), carousel paid social media ads
Personalised content
UpWork, a popular freelancing platform, has pushed the boundaries of its B2B advertising campaign with personalised, animated digital content. 
"Upwork is a vibrant, expressive brand that's contagiously optimistic about the potential of freelancers to solve big problems and drive the evolution of business," says Michael Lemme, Chief Creative Officer at Upwork's agency of choice, Duncan Channon. 
"The 'Hey World' campaign has some fun, but is serious about the idea that talented freelancers can get stuff done for people who need stuff done."
The campaign has proven very successful through their clever use of humour. They even go as far as to name-drop popular celebrities and organisations such as "Hey Mr President" targeted at Donald Trump or NASA to keep it extra topical.
Use personalisation for: social media content (paid and organic)
Digital content hub
Do you remember The Wolf video series I mentioned before? As a part of the broader campaign, HP have created a digital content hub for IT executives featuring research papers, links and other content that examined security threats and provided assessments that might help ascertain levels of risk.
The campaign's success relied upon one of the most successful B2B marketing strategies – customer education. 
The results included a lift in purchase intent that more than doubled the initial target – and a spike in printer sales that was over three times ahead of the company's original goal.
Another famous example of a high-performing content hub comes from HubSpot which target marketers and sales professionals. The broad selection of informative, in-depth content not only helps the visitors to solve their problems but also acts as a major organic traffic accelerator for the business.
Use content hubs for: content distribution, lead generation campaigns, social media (paid and organic), PR, thought leadership, brand partnerships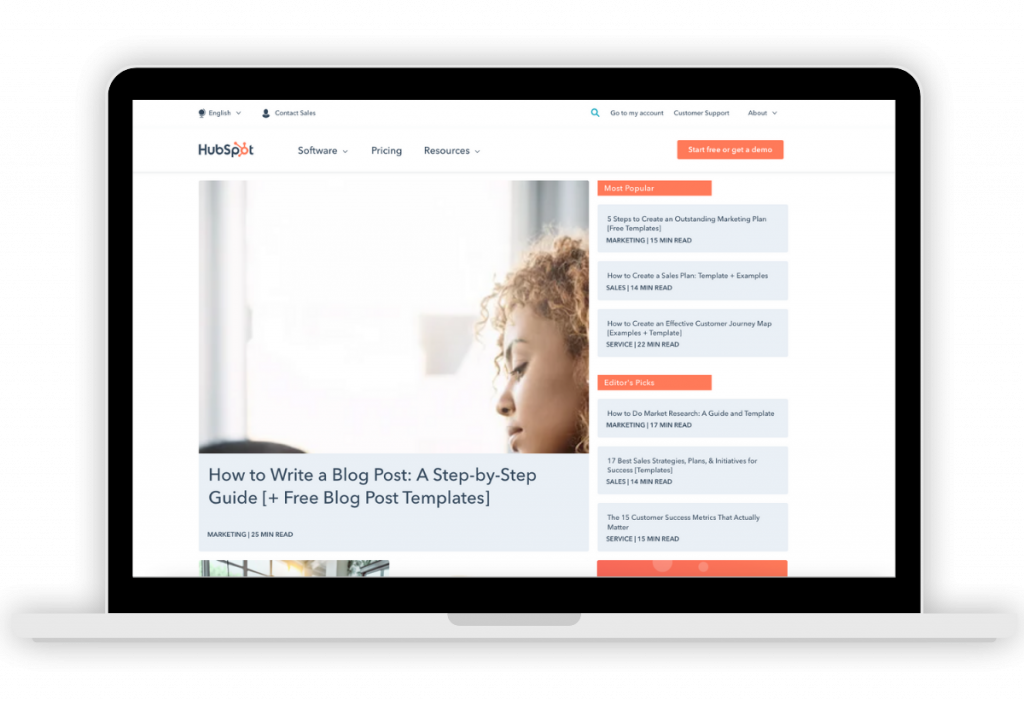 Joint (collaboration) content
Collaborating with more established brands and individuals to co-produce long-form content is a great way to tap into new audiences. Co-producing content works especially well for emerging B2B brands with limited resources as they allow you to create quality material and put it in front of prospective customers at a minimum cost.  
At Nibble, we decided to challenge the status quo and invite our peers from the industry (marketing agencies and individual professionals) to produce a huge Creative Marketing Bible.
The bible is a collection of over fifty pages of the best-kept creative marketing secrets shared by practitioners which you can implement in your own marketing strategy. 
By utilising the network of our contributors to promote the e-book, we've been able to tap into a new audience with an impressive conversion rate of 45%. 
This result came from organic activity only, including social media shout outs and Facebook group promotions. That's the power of community! 
You can achieve a similar result by reaching out to indirect competitors from your space and offering them a chance to be featured in your guide. This will not only create an exciting personal promotion and brand PR opportunity for them but will also allow you both to reach your target audience at the same time.
Use joint content for: social media, newsletters, online groups and web content for SEO
And that's it for today. If you enjoyed the read and you'd like to find out more about how video content from Nibble could help your B2B brand become more creative get in touch with us today!