Are You Struggling to Boost Social Media Engagement? This Content Will Help
Introduction
Maximising user engagement remains one of the top challenges every Social Media Manager faces. 
With over 500,000 new tweets posted every day in 2020 and constantly changing organic algorithms, hitting your social media KPIs of creating engaging content became more challenging than ever before. 
Does the above strike a chord? If the answer is yes – this article will help you out.
Social media as a business tool 
Social media is a competitive, highly saturated landscape. It is estimated that there were 4.48 billion social media users worldwide in July 2021, that's almost 57 per cent of the global population.
Social media user numbers have surged in the past twelve months, too, with 520 million new users joining social media in the year to July 2021. 
As for the fastest growing social media channels, TikTok is definitely among them. TikTok emerged during the pandemic with over 2.6b downloads worldwide. 
It's being used by both individuals and brands with great success. The average customer reportedly spends about 41 minutes on the app daily (according to data from 2021), which clearly dictates the type of content your audience wants to consume and engage with – short-form video.
How to stand out in a competitive social media landscape
Social media thrives on content produced by media houses, brands, broadcast media and individuals – making it more challenging than ever to stand out. However, as brands more widely recognise the power of social media, there is more pressure on comms teams to leverage its potential. 
As the demand for social media marketing grows, user engagement is slowly falling – I mean, with how much content can customers potentially interact with, right? 
If you're facing the challenge of selecting the right content for your user engagement strategy, the key is to choose a medium that is both snappy and easy to consume. 
Animated social media videos tick all the boxes as they can turn even the most complex stories into short-form clips that engage and entertain your audience. Here's why:
Animation catches attention – and it does it fast
As Julian Shapiro famously said:
"People don't have short attention spans:
They finish 3 hour Joe Rogan episodes. 

They binge 14-hour shows. 
They have short *consideration spans*, so they must be hooked quickly. 
Point; Don't fear making great, in-depth content. But, ensure your *first minute* is incredible". 
If you're trying to hook your audience quickly with your content, you must ensure that you're investing in the right one. 
Long, in-depth blogs are great for improving your organic rankings, but they might not be enough to keep your audience engaged on social media. 
Don't fear making great, in-depth content. But, ensure your *first minute* is incredible". 
Animation, on the other hand, can successfully capture your prospect's attention within the first seconds and convey your brand's message in a short amount of time.
With the help of a professional animation studio, you can quite quickly turn your article's highlights into a dynamic, powerful video, which can be consumed in under a minute. 
Global brands such as Slack, Amazon AWS and Apple successfully use motion design to get their message across with moving images – and there are plenty of reasons you should be doing it, too. 
Animation triggers emotions
Evoking emotions with your messaging drives conversions.
The emotional brain rules decision-making in humans. People decide first based on how they feel and then justify that decision with what seems like a consciously balanced weighing of pros and cons. That holds true for both B2C and B2B brands as well.
Animation does a great job of portraying your prospect's emotions in the condensed form of a short video. With that in mind, it's no surprise that animation is a popular choice amongst advertising agencies bidding to win national commercial campaigns.
Here's an excellent example of a successful animated advert from M&S:
When you combine animation with the power of storytelling, you create a narrative that people connect with. When the narrative empathises with your audience, people grow an emotional attachment to the story and its characters – and therefore, they feel more connected with your brand. 
But don't just take our word for it.
According to a video ad tech company, Unruly, M&S's "Paddington and The Christmas Visitor" ad topped the Christmas Ad Effectiveness Chart in 2017 with an EQ score of 6.4 out of 10 after 35% of viewers came away with a more favourable view of the brand – the highest of any Xmas ad that year.
M&S's ad was also the campaign which, alongside Sainsbury's #EveryBitofChristmas" and Tesco's #EveryonesWelcome, attracted the highest purchase intent (41%) and the highest percentage of people who wanted to find out more (40%).
Don't underestimate the power of emotive marketing!
Animation entertains and makes the impossible possible
Let's face it, we're all humans, and we all like to be entertained, especially on social media. Animation, unlike any other format, can both educate and entertain your prospects without aggressively pushing your product or service on them. 
If you look at the Paddington Bear-fronted Christmas campaign from M&S – at first watch, you might not realise how cleverly it embraces instore events, cuddly toys and a charity tie-in all at once.
Another great example of an entertaining and engaging ad is McVitie's: Sweeter Together campaign:
This animated ad produced by McVitie's longstanding ad agency, Grey London, shines a light on the simple act of sharing a biscuit that has the power to bring people together. 
The 60-second ad entitled "Crane" follows a day in the life of Rod, a lonely tower crane operator who carries out his job several metres above the ground.
According to Campaign, Grey London opted for a fully animated ad because it allowed them to "do those sometimes magical things" and maintain complete control throughout the process.
Nick Rowland, creative director at Grey London, said: "Animation is a wonderful thing. It can allow you to do something that sometimes live-action can't do. You can really get into a character.
"The world of movies and Pixar and Disney and all those sort of things have done so well over the years. It's certainly not Pixar inspired but there's a sense that an entire generation have grown up with that world where animation allows you to do those sometimes magical things."
Animation conveys your entire brand message in an accessible way
Marketing psychology focuses on clustering as one of the most important considerations when creating business content. 
According to research published by George A. Miller for The Psychological Review, most people can only remember seven pieces of information (plus or minus two pieces in any given situation) at a time. To cope, most people tend to cluster similar pieces of information together. 
If you happen to run a specific campaign that requires passing on a considerable amount of information, animation should be your medium of choice. Animated explainer videos are a great way for bringing multiple pieces of information together while keeping a natural flow. 
That way, you can tell a story that is both engaging and easy to remember – which will significantly increase your campaign's success rate. 

Animation gets people talking
We all know that a good story sparks conversation. Think about it from this perspective – great tales are passed down through generations. 
The same holds true for animated content – in fact, the M&S #LoveTheBear video has been viewed almost 10M times on Facebook alone and resulted in over 40k comments!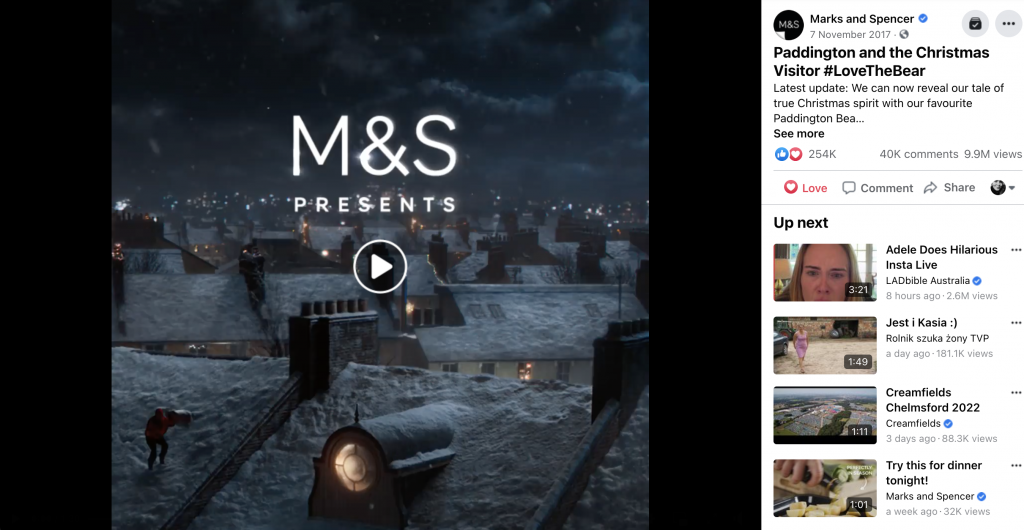 It doesn't take long skimming through the comments to spot lots of genuine interaction between M&S (and Paddington Bear!) and the commenters, too. Not only that, but videos like this lead to loads of sharing, which naturally leads to more views, and a longer period of relevance for your video and your brand.
Are you looking to improve your social media engagement with animation? We'd be delighted to help. Drop our team a message today or calculate your animated video quote using our online calculator!