Marketing Communication Plan: How to Connect with Your Customers? (Tips)
Introduction
You've heard it before – but in this highly competitive world, connecting with your customers is more difficult than ever. 
One of the reasons marketing strategies fail is a lack of understanding when it comes to the needs and challenges of your audience. If you don't know what the motives are behind your customer's behaviour, chances are you won't be able to come up with a message that resonates with them. 
This blog comes from the Creative Marketing Bible published by our team in 2021. To download your free copy, click on the banner below!
Do you speak Marketing?
One of the best examples to illustrate the importance of knowing your customers is the language you use in your marketing materials such as on your website or social media posts. 
Brands that struggle to properly understand their target audience end up using industry jargon that is barely understandable by those outside their field. 
For instance:
Drill down → Analyse
Pull the trigger → Initiate 
Baked in → Accounted for
Best of Breed → Best
Execute → We'll do it
You know what I mean?
This kind of language makes a reader feel out of the loop if they don't immediately understand it – leading to a feeling of alienation, and less chance of your message resonating with them.
While other businesses wander in the dark, you can use simple, natural language to stay competitive. 
What does H2H mean in marketing?
In a global marketplace being driven by technology, the concept of humanizing a brand and connecting with like-minded individuals is a key strategic opportunity for moving a business forward. It's a simple concept but people are creatures of habit and it takes a pretty significant shift to give up our favourite business jargon. However, at the end of the day, companies exist because human beings are directly responsible for the way a company behaves.
With Human to Human (H2H) communications, you can build trust and tap into people's emotions – whether you operate in a B2C or B2B environment. 
In this context, there is one thing that you ought to remember:
B2C Marketing = selling to people
B2B Marketing = selling to people who work for companies 
No matter what sector you work in, you're still marketing to people – and they should always lie at the heart of everything you do. By embracing all elements of H2H marketing including using jargon-free language and creative business storytelling, you'll be able to distinguish your brand from your competitors and make your brand stand out. 
Look at it from this perspective – your potential customers have an attention span of just eight seconds, so it's your job as a marketer to make the most out of it. If you fill your website with pretty but meaningless, fluffy copy, chances are your visitors will bounce from your site as soon as they land on it.
On the other hand, if you immediately catch their attention with a thought-provoking story or engaging explainer video, you're off to a much better start. 
So, if you're looking to get ahead of your competition, start building that personal connection with your customers by embracing clear human-to-human communication. 
B2C Marketing = selling to people

B2B Marketing = selling to people who work for companies 
Speaking of the 8 second attention span… What are some creative ways to capture your audience's attention span within seconds? 
Four must-have lead generation tools for your business
Within 8 seconds, your customer has already made their first critical decision; whether to keep listening, enter into a conversation with you, or end it right away. This tiny window of time is critical in deciding whether you win or lose new business.
Landing Pages
Let's imagine a scenario where a prospect lands on your page and is trying to evaluate your offer to decide whether you're the right fit. If your landing page is a regular page (or, even worse, just your homepage), you're likely to lose their attention immediately. 
Every campaign needs to have a designated landing page featuring a clear headline message and engaging content to support it. For example, if you are a SaaS provider trying to increase signups for product trials, you ought to have a landing page that explains why people should give you a try and what's in it for them.
To create your own landing page, you can either build it in-house as an addition to your existing website or opt for a codless landing page builder from LeadPages, Landingi or HubSpot.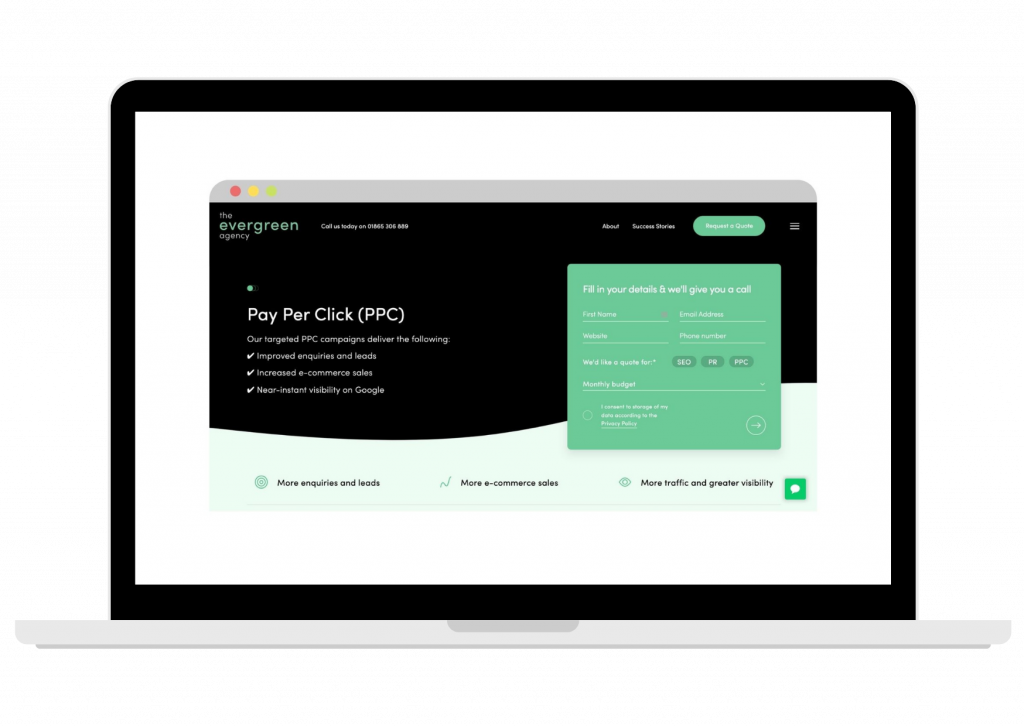 Explainer Videos
Bearing in mind that you only have eight seconds to help them decide, a great tactic to capitalise on the need for instant engagement is to turn the entire message into an animated video explainer.
An average explainer video lasts up to two minutes, and is one of the most effective marketing tools to engage and convert your prospects. It fulfils the need to grab attention quickly, and to succinctly introduce the viewer to your solution. Explainer videos suit businesses of all sizes but are the most commonly used in startups to break down complex ideas and processes and bring clarity into them.
Live Chats
If your goal is to initiate contact, instead of embedding traditional contact forms, you might want to try live chats.
There are plenty of solutions on the market that offer custom chatbots (e.g. Continually) and real-time chats (e.g. Drift) as a more engaging alternative to static forms. Again, if you can trigger your welcome message within the first few seconds of your customer's visit, chances are you'll be able to capture their attention.
Personalisation
Last, but not least – there is no better way to get your prospects hooked than running a personalised campaign that specifically targets your segment's needs. The days of 'one-size fits most' marketing are behind us!
For example, if your SaaS product can be used by both business development and marketing teams, a good idea would be to create two separate campaigns that point segments to two different landing pages. Each landing page should showcase different benefits that are applicable for each segment so they can instantly assess whether your solution could help them solve their own challenges.
At Nibble, we offer bespoke animation services to marketers who wish to connect with their audience on a deeper level. We produce beautiful animations for marketing campaigns, website, sales and onboarding videos, leveraging the power of effective storytelling and bespoke craft. If you're looking for an animation studio to help with producing your own video, give us a shout!