Mobile App Marketing Ideas for 2022 (Checklist)
Introduction
Are you planning to launch your app in 2022, but don't know how to get your head around promoting it?
? Statista reports that about 218 billion mobile apps were downloaded to connected devices in 2020 across all app stores. And it is estimated that around 3.04 million apps exist on the Google Store, while Apple Store features over 2.09 million.
With such a massive choice of apps available globally, how do you stand out in this competitive landscape? 
Here's a roundup of five proven mobile app marketing strategies you can steal for your next app launch.
Plan pre-launch marketing activities
Marketing your app on launch is obviously very important, but dedicating some resources to pre-launch activity is vital as well.
Marketing a mobile app before its launch is like pushing a snowball downhill – awareness builds slowly, gathering pace until finally peaking at the launch date. Hence, it's essential to pick your channels early and start sending comms before the app releases to build interest and create demand.
Pick your target markets early and research your audience's preferences – what type of content do they interact with? What channels do they use? Who do they follow?
The answers to these questions are essential to the formulation of a successful post-launch promotion plan. Some insights might even help in the app's development as well. 
? Benefit: The key to a successful launch is generating buzz before the app is even released. By creating a pre-launch marketing campaign, you can lay the foundations for an even bigger impact by spreading awareness, encouraging sharing, and creating excitement. This will also allow you to gain invaluable insight from your target market about their needs to feed into features and functionality before the app is published to maximise its success.  
? Solution: Formulate your marketing strategy in a way that speaks to your audience before the app kicks off. Create a simple landing page to collect email addresses and use paid social media ads to drive relevant traffic. You can also use email addresses gathered to research your prospects and create a lookalike audience based on your customer data. 
To gain more in-depth insight, try researching and signing up to relevant groups and communities to engage your target audience and give your app a subtle push.
Visualise your app's mission to attract more users
If you've decided to create an app, you must have done it with a specific challenge in mind. 
For productivity apps, this could be aiding remote office workers with a tool to manage their work-life balance while working from home. For those leading a healthy lifestyle, this could be an app that helps people trying to lose extra pounds stay within a calorie deficit. 
Whatever your goal is, you must communicate it in a concise way.
Having a hero story behind your app is critical to boost downloads. As with any other marketing strategy, customers respond to precise targeting of their pain points – and this applies to mobile app marketing as well.
? Opportunity: An average consumer uses between 8 to 10 mobile apps on a daily basis. To help retain users for longer, you have to demonstrate how your product solves a problem, and help them to visualise how the app changes their life for the better.
? Solution: Animated video explainers and app demo videos are a great way to communicate your story in a visual way. 
An average video explainer lasts around a minute, which is the perfect length to keep your prospective customer engaged. This clear, snappy format is especially effective for customers who are still at the beginning of their app consideration journey (at this point, the faster you can catch their attention the better). 
And the stats are here to prove it. According to research by Lemonlight, 90% of users report that product videos are helpful in the decision-making process of the buyer's journey.
Utilise novelty social media channels to boost app promotion 
A study by Yahoo revealed that the motivation behind users downloading new apps could be split between the following categories: 
They have a problem they think an app can solve

They're bored and looking for something new

A friend recommended an app

Their current app lacks specific features 
Interestingly, problem-solving isn't the number one motivator behind increasing app downloads: it's boredom.
? Opportunity: Instead of waiting for your customers to find you, make sure you approach them first. Reaching your customers in places where they try to kill time can be a great way of boosting app downloads. 
While placing pop-up banners across the web may sound like a great idea to spread awareness of your app, people tend to block or ignore them, making your valuable marketing budget run out quickly. 
? Solution: Instead of wasting money on intrusive pop-up banners, try native social media ads and partnering with influencers to catch prospects in channels where they're more open to consideration of new apps.
A great example of an app that grew in popularity through social media is the saving app Plum, which significantly increased in popularity amid its TikTok success and the rise of "finfluencers". 
Build your app's digital footprint
Sadly, having an application that only lives in the app store isn't enough to guarantee its success – you need to nurture its digital presence beyond that. 
PR, quality features in specialist and mainstream media, social media endorsements and advertising are only a few ways of generating buzz. To maximise success, you need to build credibility – and this is something that can be achieved with a fully functional, complex marketing strategy.
? Opportunity: Amid rising concerns about users' privacy, mobile consumers are more mindful about the apps they install on their phones. The majority of applications available within app stores have no digital footprint, restricting buy-in from privacy-aware customers. 
? Solution: To boost your credibility, create a simple website that outlines your product, its purpose and all legal information highlighting data collected, in-app purchases, paid plan features (if any) and more valuable information that might interest your users. 
To build trust in customers who are researching your solution, you need to make sure that your brand is discoverable online – beyond the app store.
Consider PR services such as HARO or Help a B2B Writer to drive media mentions and backlinks to your website and strengthen its authority on search engines. 
Don't underestimate the value of customer onboarding
By following the previous steps, you should have successfully attracted a decent number of new downloads – congrats! Now, what's next?
While user acquisition is an integral part of the mobile app marketing process, customer retention is even more critical to ensure success. 
AppsFlyer's research indicates that the average mobile app uninstallation rate after 30 days is 28%.
This means that almost 3 in every ten apps will be deleted from users' devices within a month.
How does the uninstall rate differ by category?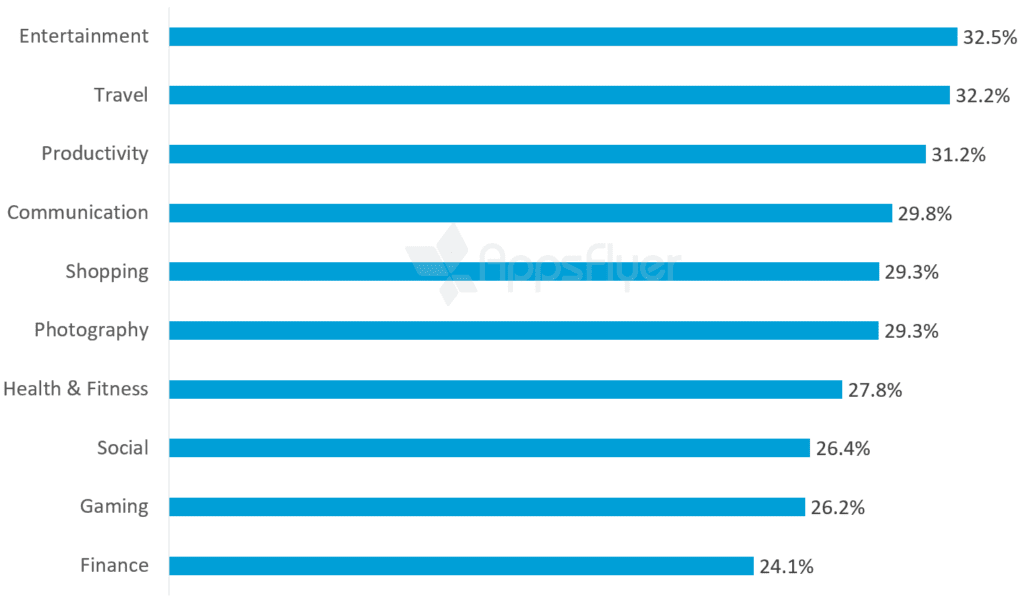 If we look closer at why users abandon apps, it becomes clear that most of them don't understand how to use them. 
An app that promised to be a breeze to use often turns out to be overcomplicated, which makes people switch. Over 80% of mobile users declare that they've deleted an app because they couldn't handle the complexity of it.
? Opportunity: Creating demand for a mobile app is complicated and time-consuming, and a slick video that shows off features and functionality can play an essential role in the process. However, if your app's existing users are having a hard time figuring out how to use it properly, chances are they won't be so keen on recommending it to others.
? Solution: Proper onboarding is a must-have item on your marketing list to help solve users' frustration about how to use your app. 
An animated onboarding video and an app training video can be a great start to help your customers navigate around the app and explore its features. 
To help them find their way around different stages, you might also want to deploy an interactive product tool such as HelpHero or UserFlow.
Summary
Are you looking to produce compelling content to promote your app online? At Nibble, we create persuasive animation promo videos for mobile apps – contact us today to arrange a no-obligation chat about your mobile app marketing strategy!