How to Make a Great Product Video in 2022? [Guide with Examples]

Product videos are a super powerful, versatile tool for marketers and product specialists across all manner of industries.
To help you on your way to producing an incredible video, here's our advice and best practices guide with some inspirational examples.
What is a product video?
A product video is a short video introducing your product or service, and showing its use case in action.
If an explainer video goes over the challenges, what your product can do and the difference it makes to customers, these types of videos are geared more towards showing exactly HOW it happens. Seeing this practical aspect of a product or service really lets your viewers understand why you're the perfect fit for them.
They're great for educating prospective customers and pushing leads at the consideration stage of their purchase closer to conversion.
Animated product videos offer the flexibility to explain even very complex concepts in seconds with a mix of motion graphics, live footage and an engaging voiceover. The most popular examples of product demo videos include software walkthroughs, online product presentations and "how-to" content.
What should be included in a product video?
At Nibble, we've helped clients in tech & SaaS, pharma & healthcare, manufacturing, HR, eCommerce and finance to produce product videos. There's no 'one size fits all' approach, but even across that broad spectrum of sectors, there are some important beats you should be hitting to ensure an effective video.
Think about how your product video can help to bring the offline product buying experience to the online world and in doing so, enhance it with video features that you couldn't replicate in a pitch.
1. Introduce your product to the world
What does it look like?
Use 3D renders, live action footage and/or screen capture to show your product working in context. Alternatively, you might want to use the power of clear description assisted by illustrative motion graphics to communicate in words what your product is.
2. Showcase your product's capabilities and features
Highlight your product's top features, provide step by step explanations and show your users the added value. Cover what it is, what it does, how it does it, and why it's great.
3. Demonstrate how it meets a challenge
Following on from the above, show some key challenges your product exists to overcome. You want to allow the audience to relate to the example you're presenting. Give some background to the problems your brand and more directly – your product – are trying and succeeding in solving.
4. Call to action
Of course, you need to round things off with an invitation to get in touch, or purchase, once your video has done its job in educating and warming up your lead.
Remember – product videos are a sort of explainer video, just more centred on the product itself. That means you should be doing some of the same things, like adding recognisable human, emotional touchpoints for your viewer to resonate with, but keep it output focussed instead. Even for SaaS or B2B, people respond to people so present these benefits to what your product is capable of enabling for them.
How long should a product video be?
90 seconds should be plenty – but some product videos run to 2-3 minutes if their audience is expected to be more engaged.
Don't feel the need to cram in too much detail, this isn't a tutorial video.
And try to avoid getting bogged down in your brand story (unless it's very snappy, and relates directly to your product). The exception is when your flagship product IS the core of your brand, like Chilly's bottles, TOMS shoes or Dropbox.
If you're planning to broadcast your video on social media platforms, you might find this cheat sheet helpful!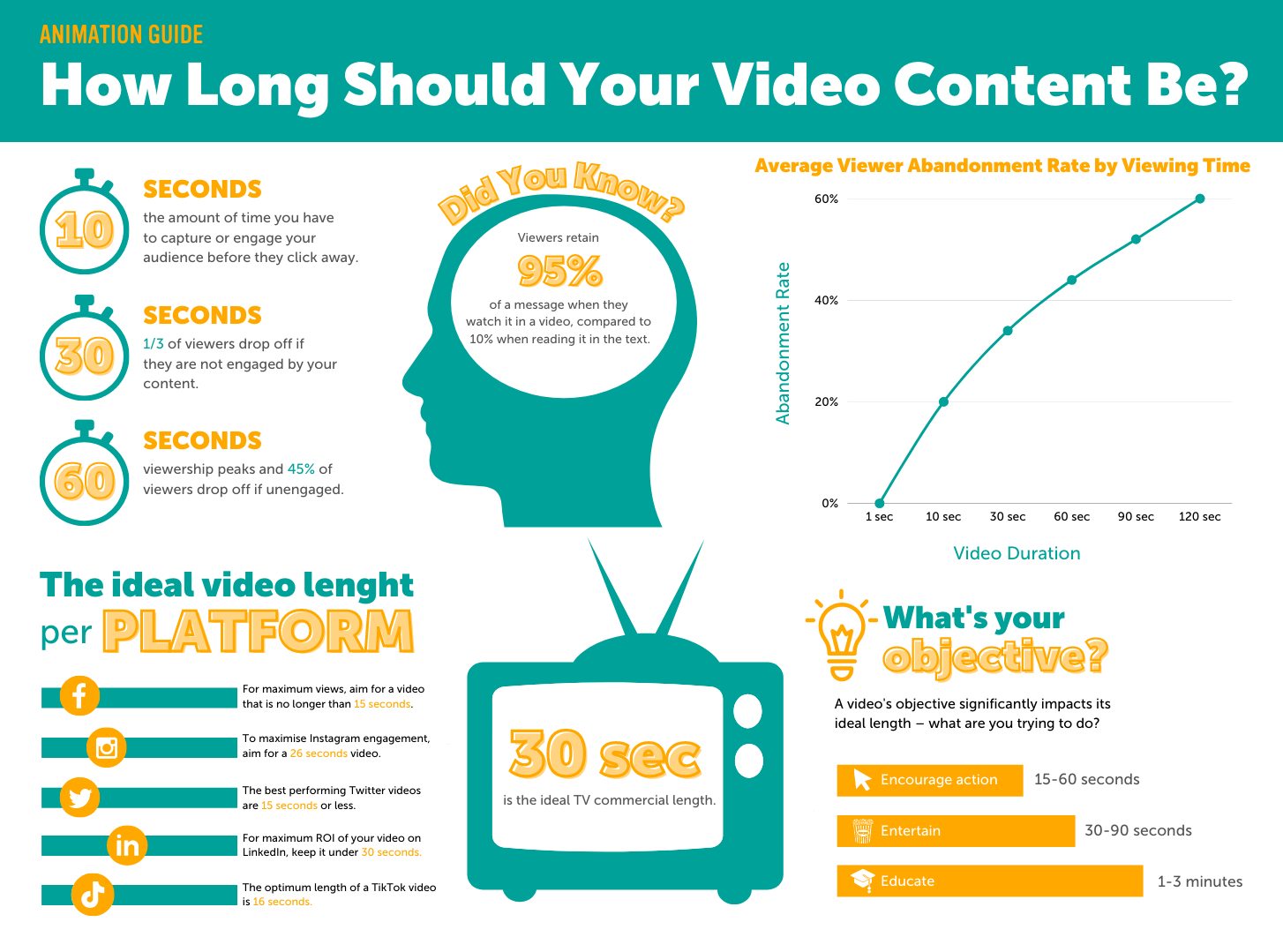 Product video production process
Here's a simplified version of how we do things at Nibble with our collaborative video production process.
1. Creative kick-off session
Lay out the key deliverables, call to action and what project success looks like, then come up with a fantastic concept to meet those expectations. Cover what content and style will best engage with your audience. 
Here's where you'll decide on a budget, timescales and whether to risk going it alone with a video production tool, or work with a creative agency for a more managed, polished project.
2. Scriptwriting
Draft a script for the video. This might mean starting from scratch or developing some product copy you already have. Make sure the language, tone, length and flow are all spot on. Studios will pair this with a shot-by-shot written description of what the viewer will see on screen.
3. Storyboarding
Storyboards are a grid of roughly sketched panels which show all of the shots in your product video and the order in which they'll appear. Accompany each panel with the voiceover that will feature during that shot, as well as notes that describe the action.
4. Artwork
Flesh out the storyboard sketches to create all of the artwork for the product video. These are the 'layouts'; essentially a polished version of the storyboards in the final style.
If you're adding live action elements to your product video, you'll want to do your shooting at this stage.
5. Animation
Now we get to the most exciting part of the process – the animation itself! It's difficult work to get this right; here's where our expert animators do what they do best. Using the layouts, a skilled animator fills out the spaces in between them to create the illusion of motion. 
Live action footage can also be blended with animated elements here.
6. Sound design
Mix your voiceover with music and any sound FX required. Studios can offer you bespoke sound design with access to award-winning composers, but in the majority of cases stock music will do just fine.
7. Voiceover recording
Take your script and record it. Trust us, your audience will be able to tell if you cheaped out and didn't get a professional VO artist with a decent recording setup! Creative agencies will manage the artists, studio, producer, sound engineer, direction and editing.
8. Screen recording
Producing a high-resolution screen recording is often required for product videos that showcase features and functionality in software or apps. Beyond a bog standard screen recording tool, specialist solutions can give you full control over the speed and fluidity of mouse movements as well as clicks and transitions. They can offer us the ability to pan across and zoom in and out of sections that require focus. You should also apply titles, annotations and callouts to ensure your recording is as informative as possible.
9. Delivery
Export your product video in your chosen format. Then it's over to the marketing team to launch, promote and track the performance of your video! Does the video deliver on what you set out to achieve? Track views, page visits, leads generated and more.
The best examples of high-performing product videos
Are you looking for inspiration for your next product video?
Here are the best product videos we've seen to date!
Headspace

Why it's great: Simple, clear and snappy communication of why the product exists, what the product does, some features and benefits, and what impact it has on the lives of its users.
Babylon Health
Babylon Health from Fudge Animation on Vimeo.
Why it's great: An effective blend of 2D animated elements and app screen capture drive home the usefulness of the app, and the positive effect it has on patients and healthcare professionals.
Slack

Why it's great: The soothing tones of podcast host Roman Mars delivering product description accompanied by sleek motion graphics are very successful in communicating non-visual concepts in the video format. That's without ANY screen capture or live footage of the platform in action.
dbramante1928
dbramante1928 Product Animation Video by Nibble from Nibble on Vimeo.
Why it's great: A blend of live action, 3D modelled and motion graphic elements come together to show off a physical product in an exciting, visually arresting way that's still grounded in reality. This style of product video gives you full control over a polished, idealised version of your product.
SurveyMonkey

Why it's great: This is a screen capture product demonstration video masterclass. With some 3D animated elements thrown in, alongside written callouts, this video gives a pacy, inspiring view of the service, without needing voiceover at all.
if you're looking for more inspiration, check out our roundup of the best product videos for all industries. 
Produce your own product video
At Nibble, we craft beautiful, engaging and highly effective product videos for start-ups, software companies and large corporations. We take our time to understand your product and your audience to produce an animated video that just works. Our talented in-house team includes creative animators, scriptwriters, illustrators, voice-over artists and project managers to ensure a seamless and collaborative animation production process.
We don't believe in a one-fits-all approach. We want your video to stand out from your competitors and truly engage your audience.
Contact our team today to get a no-obligation project estimate!